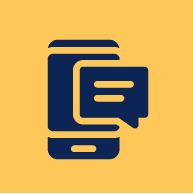 We are here to chat with you confidentially about any challenge, to help you find answers to any question, and to remind you that you don't have to deal with any of this alone.
Hours
Monday – Friday, 8am – 8pm
What to expect when you connect:
 To chat with a Retired or Former Correctional Officer Peer Support Specialist.
Understanding, guidance, confidentiality and referrals to local resources if needed.
Follow up after your chat session to ensure that you have the support you need and have found the answers you were looking for to move forward with confidence.
Click the tab at the bottom of the page to start a session.